Townsville Metal Roofing Group
Is Your Roof Old and Worn Out? If Your Roof Needs to Be Replaced, Call Us Before It's Too Late!
Roof replacements can seem like a nightmare for property owners in Townsville, but we at Townsville Metal Roofing Group make it a pleasant dream. We are proud to be a locally based company with years of industry experience. Our team is committed to providing the highest quality roofing systems along with a high level of service that is unmatched by our competitors. 
Over the years, we have established a roofing system that is streamlined and efficient. We are specialists in roof replacement and can get the project completed to perfection the first time. All roofing projects are completed by local roofing experts with decades of experience.
Metal Roofing in Townsville
Experts in Metal Roof replacement Townsville
Townsville Metal Roofing Group offers outstanding, high-quality metal roofing Townsville services. The job of replacing a metal roof is delicate and requires care to not damage the existing structure. Colorbond steel is the best roofing material available for this service. We offer the best warranties for Townsville roof replacements. We want to provide you with a beautiful new metal roof that fits within your budget.
Roof Replacement
Services
A full range of metal roofing service in Townsville
Our services include the following:
Providing roof replacement services to both residential and commercial clients, we strongly focus on quality and customer service using Australian-made products.
There are a lot of unprofessional roofing companies in Townsville that try to pass off their shoddy craftsmanship and cheap materials. We are not one of them. Do not take chances with your roofing project. Instead, pick a local roofing company that you can trust. 
Over the years, we have received continued support from our clients and the community of Townsville because of our –
At Townsville Metal Roofing Group, our clients always come first. We never cut corners on any of our projects and ensure you are completely satisfied after it's protected.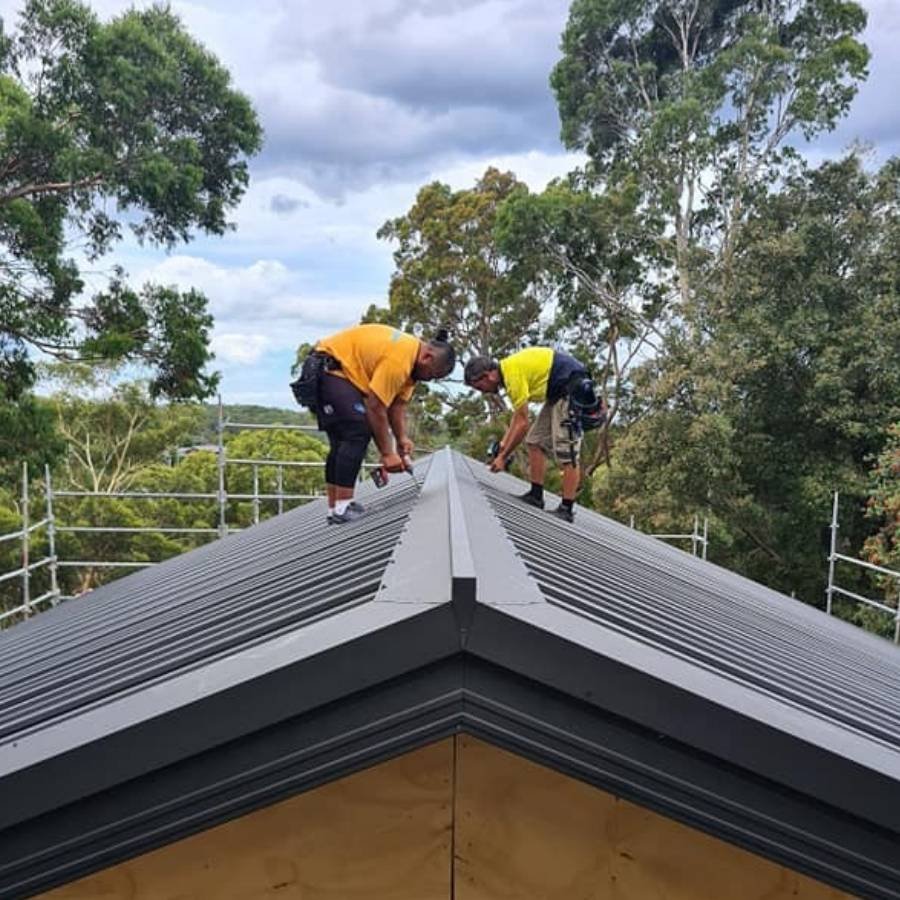 Townsville Metal Roofing Group covers many areas of Townsville and its surrounding suburbs of Townsville City, Kirwan, and Currajong. We are not limited to these suburbs. We have been serving the Townsville area for decades and are quite familiar with all the surrounding suburbs. If you live anywhere in the Townsville vicinity and need roof replacement services, contact us to see whether we can meet your needs.
Metal Roofing in Townsville
Townsville - A
Fascinating
History
The charming town of Townsville is located in eastern Queensland, Australia, and is about 1300 kilometers north of the city of Brisbane. The town was founded in 1864 and is named after its founder Robert Towns, an entrepreneur and a merchant. The town initially served as a trade center after gold was discovered in the hinterland at Ravenswood and Charters Towers.
Townsville was announced as a municipality in 1866 and then became a town in the year 1903. While being a major port in the 1880s, Townsville developed into a large industrial hub during the 1920s. It then became a major military base for the US and Australian troops during the war in the Pacific region. 
It again emerged as a major military and air force base during the 1960s. Tourism in the area flourished during the 1980s, but it is not completely dependent on tourism.
Best Time to Visit Townsville
Struggling to understand the best time to head to Townsville to explore the area? Here is a handy guide –
Townsville enjoys about 320 days of sunshine every year on average, with hot and humid winters. While it is a popular destination to visit all year round, September to November is the ideal time due to various factors such as the weather, cost of travel, and accommodation. However, between June and August, the weather settles down, making it perfect sightseeing weather. But you will find the place quite crowded with locals and tourists during that time.
The sun stays up the longest in October, allowing you to make the most of the various activities on offer during that time. In January, the town receives a lot of rain, but often it rains a little, and then the weather is fine most of the day.
How To Reach Townsville?
Townsville lies about 1,300 kilometers from Brisbane, and there are a number of ways you can make your way here. The most convenient way is a direct flight to its domestic airport. There is also an efficient train system that you can take to the nearest cities of Cairns, which is just a six-hour journey, or Brisbane, which is about 15 hours. You can even drive from the state capital while enjoying the Queensland coastline from Brisbane to Townsville. You can break up your drive as there is so much to see and do, allowing you to get the most from your trip.
Best Places to Visit in Townsville
The vibrant town of Townsville has a lot to offer to locals and tourists alike. Townsville is surrounded by lush green rainforests, serene beaches, and great national parks. It has everything a tourist needs. The town offers plenty of activities and lures thousands of tourists yearly, many of whom make this town their home later.
The relaxing coastal vibe and the cheerful streets make Townsville the best place to visit to break down your monotonous daily life. The best places to visit in Townsville while you are here are –
The Strand

Reef Headquarters Aquarium

Castle Hill

Riverway

The Palmetum

Anderson Park

Billabong Sanctuary

Perc Tucker Regional Art Gallery

Queens Garden
Things To Do in Townsville
Spend your days exploring the beautiful Townsville town by sea, land, or indulge in the town's spectacular range of activities. Take a short 25-minute ferry ride to the coral-fringed sands of the Magnetic Island. Explore the Great Barrier Reef alongside the beautiful hidden beaches, palm trees, and abundant wildlife that call this island their home. Paddle through the pristine waters or explore the reefs alongside a diving expert.
If you do not want to get your feet wet, head to the Reef HQ Great Barrier Reef Aquarium to witness the world's largest living coral reef aquarium. This center contains millions of exhibitions, along with a sea turtle rehabilitation center. Do not miss out on the Museum of Underwater Art's Ocean Siren from the Strand Jetty, which changes color depending on the water's temperature.
Located about 20 km from Townsville, the Billabong Sanctuary allows you to get up close and personal with indigenous animals in their natural habitat. Enjoy feedings, animal shows, and talks, and click photos with the many furry, scaly, and feathered residents in this eco-certified sanctuary.
In the town, you will find a lot of other activities that are sure to keep you entertained. You can spend days loitering around the many cafes, restaurants, galleries, boutiques, or the Strand, a popular place for its water playground that is absolutely free. Take one of the hiking trails to the top of Castle Hill to enjoy the breathtaking view of the sunset.
Townsville Metal Roofing Group Company – Your Trusted Roofing Partner in Townsville
Whether you are a local living in Townsville for years or have recently shifted to this exciting town, you want a roof that you do not have to worry about. It will give you enough time to explore the various activities the place has to offer. 
A roof replacement project is an investment in the value and protection of your property. Repairs and maintenance can prolong the life of your roof, but a roof replacement is not something you can avoid for a long time. Decades of exposure to Townsville's unpredictable weather can wear out your roof. 
When replacing your roof, Townsville Metal Roofing Group is thorough and careful during the entire process. We remove your existing roof and then replace it with the best roofing system. On completion, you can expect a new-looking roof, increased savings, added protection, and increased value of your property.
If you live in Townsville or any of the suburbs mentioned above, give Townsville Metal Roofing Group a call to schedule a free estimate for our services or fill out the contact form.