Commercial
Roof Replacement Townsville
Your commercial property's exterior is the most important thing. Your commercial properties exterior appearance, colour scheme and signage will attract customers and create curb appeal. Roofs on industrial or commercial properties are often neglected until they become a problem. Roofs for commercial properties must be safe and reliable to ensure that the business can continue to operate, regardless of whether it is a warehouse, retail shop, school or other type of establishment. A secure roof will protect your property for many years. Sometimes, repairs to your commercial roof may not be enough. A professional commercial roof contractor is available with the right skills and resources to perform commercial roof replacement Townsville with minimal downtime to your business.
Commercial Roof Replacement in Townsville
Experts in Commercial Roof Replacement in Townsville
No matter what type of commercial property it is, you can be sure that we will provide the highest quality roof replacement service in Townsville. Townsville Metal Roofing Group has decades of experience replacing commercial roofs that are damaged or worn. From the initial design, budgeting and installation of a new roof to the tear-off and installation, we will be there for you every step of the way. Commercial roof replacements can be complex. We will help you every step of your way to make sure your project goes smoothly.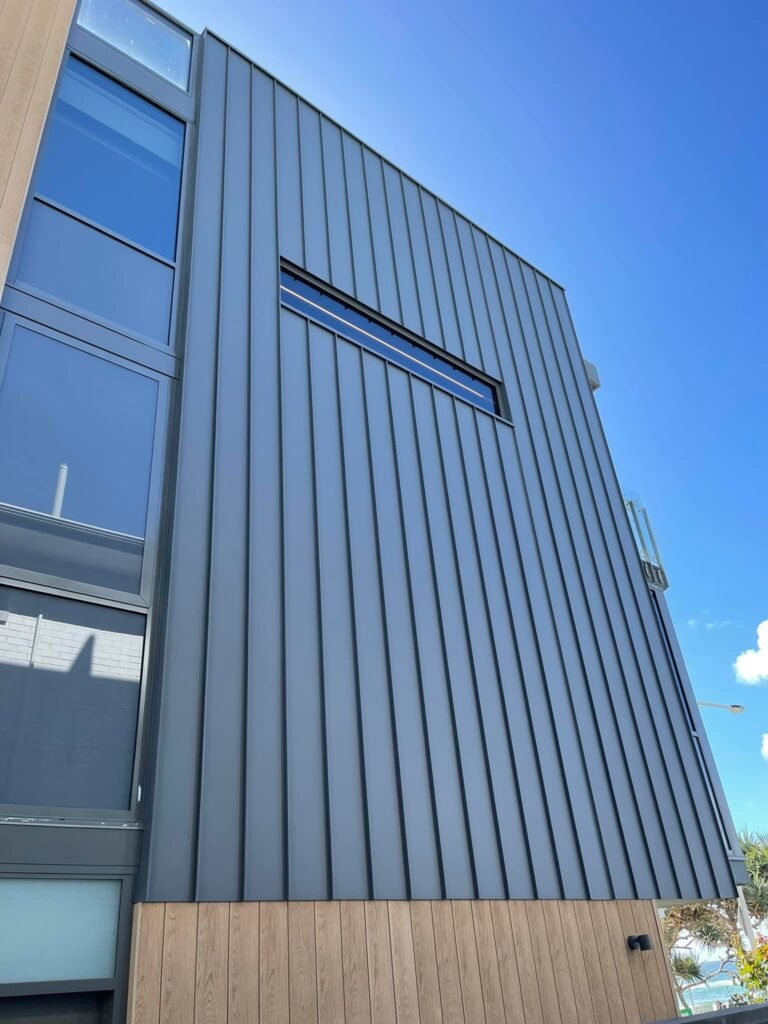 Signs That Your Commercial Building
Needs A New Roof
Have you ever considered the integrity and quality of your commercial roofing in Townsville? This is something that most people don't think about often. Neglecting to notice signs of wear and age on your roof can lead to collapse.
These are the top signs you might need to have your commercial roof replaced:
If you ignore these signs, you may face costly repairs, loss of materials, and unhappy employees. For a free inspection of your commercial roof, call our roofing specialists. Our team will gladly inspect your roof and recommend the most efficient way to replace it.
Our Commercial Roof Replacement Services offer many benefits
Although it is an expensive decision to replace your commercial roof, there are many benefits you should not overlook. We are proud to offer our services for commercial roof replacement in Townsville.
When you choose to work with Townsville's professional roofing company, there is no room for mistakes. So you have a stress-free experience, we believe in doing the job right.
Commercial Roof Replacement Experts
Our clients can trust us to provide expert advice, high-quality workmanship and great value for money. With our vast experience and proven expertise, we can replace your roof on commercial or industrial properties. All roof replacements are done in accordance with the manufacturer's instructions. This ensures a professional job and allows you to take advantage of the entire range of warranties for your new commercial roof system.
Contact the experts in commercial roof replacement in Townsville
Every time you contact us, you will speak directly with the roofing professionals who will take care of your concerns. We have been in Townsville for decades so we are able to provide you with the best quotes and the highest quality service. Our experts bring years of experience, integrity, and high quality work. We will provide you with accurate and upfront quotes.

To have your commercial roof evaluated and to receive a detailed quote, call us at (07) 4439 8887.
Roof Replacement Services
We offer a wide range of roof replacement services to cater for any budget or requirement.