Tile to
Metal Roof Replacement
Townsville
Townsville homes often have terracotta or cement tiled roofs. The beauty and charm of tile roofing can be diminished over time due to their inherent limitations. Water can leak into a house from tiles cracking. If not properly cleaned, tiles can also lead to a buildup of dirt that encourages mould growth. These problems can be difficult to solve and are often not cost-effective. Most often, you will have to replace the entire tiled roof. Our tile to metal roof replacement in Townsville service may be the best solution for you.
Tile To Metal Roof Conversion Specialists
Experts in Tile To Metal Roof replacement Townsville Conversions
Your roofing decision today will have lasting consequences. If you do it correctly, you can live your entire life without worrying about maintenance or leaks. You want your roof replaced quickly, efficiently, and inexpensively. Our roofing team is well-trained to do just that.
Townsville Metal Roofing Group replaces old, damaged, or worn-out tiled roofs with attractive, reliable metal roofs for all kinds of homes. A tile to metal roof conversion can improve the look and feel of your home. Colorbond steel metal roofing is the best choice because of its reliability and dependability. Our roofing professionals are the best people to replace your heavy tile roof with a lightweight steel roof.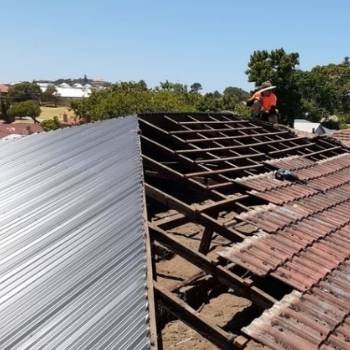 Why
Colorbond Metal Roof
over Tiled Roof?
A tile roof looks great when it is installed, but they require regular maintenance to stay in good condition. Tiles can begin to look old and deteriorate over time. Cracks not only affect the appearance of your home but also the safety and functionality of your roof.
Colorbond metal roofing is becoming an increasingly popular option for homeowners searching for a tile-to-metal roof replacement in Townsville. They offer a superior option to tiled roofing and other types such as asbestos. A Colorbond metal roof is more popular than a tiled one due to its unbeatable durability, sleek-looking appearance, and low maintenance. Colorbond roofing replacement is a smart choice for every property owner here in Townsville.

Disadvantages
of Tiled Roofs
A New
Colorbond Metal Roof
Offers Many Benefits
Are Colorbond roofs
cheaper
than tiles?
No. Colorbond roofing is a bit more expensive than tile, but Colorbond sheets are only one part of the story.
Colorbond roofs are lighter than tile roofs and require fewer support beams. This reduces the cost of installation. It is also easier to install and your roofer will spend less time on the house, which means you can enjoy lower labour costs.
Get in touch with us to get a precise estimate. Keep the following information handy:
Townsville Metal Roofing Group: Tile to Metal Roof Replacement in Townsville
It makes sense to hire specialists to handle your job if you are looking to replace your tile roof with a Zincalume or Colorbond metal roof. There are many options available for you to choose from when choosing a new roof. 
We will replace your tiled roof quickly, efficiently, and with minimal disruption to your home and family. Our skilled and experienced roofers will ensure that your tiled roof is aligned to Australian building codes and council standards. We provide the services you expect, but we strive to exceed your expectations with our attention to detail.

Are you thinking of upgrading your tiled roof to colorbond?
Our local roofing company has the experience and qualifications to offer the best tile to metal roof replacement service in Townsville. For decades, we have been reliable and consistent roofers. Our expertise in tile to metal roof replacement Townsville is unmatched, and we continue to grow our client base.
Call our roofing team at (07) 4439 8887  to arrange an inspection on-site and a quote!
Roof Replacement Services
We offer a wide range of roof replacement services to cater for any budget or requirement.