Insurance
Roof Replacement
Townsville
Hail has stopped crashing against your roof. The sun is shining and the skies are clearing. As you walk around your house, you see that the roof is quite damaged. What do you do? It is crucial to check if hail damage has occurred on your roof after a hailstorm. This can lead to roof leaks that will dramatically reduce the roof's lifespan. Insurance Roof replacement in Townsville is necessary. However, this is not a decision to be taken lightly. Often, the homeowner with insurance does not have to pay for the insurance roof replacement in Townsville. However, unlike any other insurance claim you only have a certain amount of time to file a claim.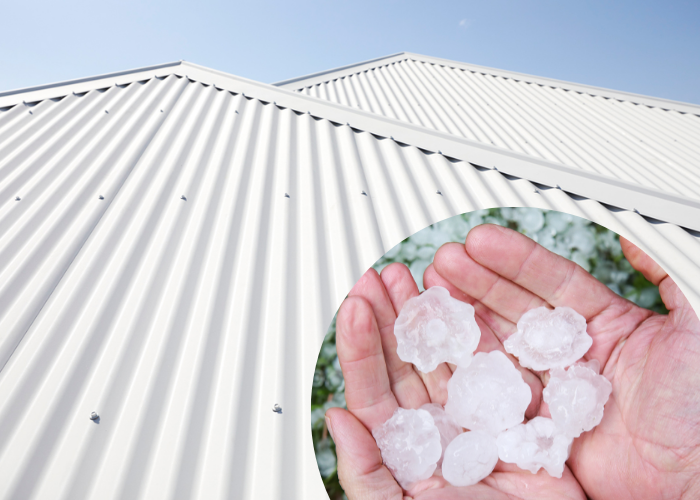 Townsville's Best
Hail Damage Roof
Replacement Contractor
It is not uncommon for roofers to knock on your door after a severe weather event. However, before you hire anyone, make sure you do your research and check that they are able to work with your insurance company. Townsville Metal Roofing Group offers hail damage roof replacement and is familiar with the insurance claims process. We can assist you in navigating the hail damage insurance claims process when you hire us.
Whats involved in getting an insurance roof replacement in Townsville?
An experienced roof estimator will inspect the roof, diagnose the cause, and prepare a comprehensive roof insurance report for your insurer. We will provide a quality and timely roof insurance report to your insurer if you're considering getting insurance for your roof replacement. The insurance adjuster can be contacted to discuss the scope of the work. After the roofing claim has been approved, we will start Townsville roof replacement.
When does roof hail damage
warrant replacement
instead of repairs?
In certain situations, replacing hail damaged roofing is the best option. You should act quickly if hail damage is extensive and your roof begins to leak. Even if hail damage to your roof isn't severe, it will cost you more in the long-term than replacing the entire roof. Minor hail damage can quickly become a problem for your roof if you do not take action. The hail's small chips and holes will allow water and other elements to seep through.
Our licensed roofing professionals can assist in these difficult situations by determining the extent of hail damage and identifying signs of deterioration. We will give you the best advice, based on your individual circumstances, and help you find ways to save money. Our team can help you get insurance to replace your roof in Townsville if the damage is severe. We have seen homeowners who choose to replace their roofs after hailstorm damage are happier and feel more at ease.
Insurance
Roof Replacement
in Townsville
Dealing with hail damage claims can make life difficult. It can be confusing to know where to begin, who to trust, what your rights are, and who to contact when you need hail damage roof replacement in Townsville.
Insurance Roof Replacement in Townsville
Based on our scope of work from initial estimation, we will deliver exactly as promised.
Comprehensive roof inspections and detailed reports to insurance companies.
We are locals and we can provide quick assistance.
Guarantees for the Long Term
All materials and workmanship are covered by long-term warranties
Get the help you need for Hail Damage and Insurance Claims
It is difficult to determine the extent of hail damage. Our services can help you save time and avoid future headaches. You will receive a contract that details the scope of the work, our responsibilities and the timeframe.
By missing the deadline for your insurance claim, you don't want to be responsible for hailstorm damage roof replacement Townsville. Reputable roofers are trusted to repair hail damaged roofs. Get the peace of mind that you and your family deserve by scheduling a free hail damage roof inspection in Townsville
Roof Replacement Services
We offer a wide range of roof replacement services to cater for any budget or requirement.