Metal Roof Replacement
Townsville
You are likely wondering what to do if your metal roof is starting to leak or looking worn. Your metal roof protects your home from the harsh Townsville weather. Older homes are more susceptible to damage and wear, which can only be fixed temporarily. Poorly maintained metal roofs can not only be dangerous but also have a major impact on your energy bills. A metal roof replacement in Townsville might be required to preserve the integrity of the structure underneath it.
Metal Roofing in Townsville
Experts in Metal Roof replacement Townsville
Townsville Metal Roofing Group offers outstanding, high-quality metal roofing Townsville services. The job of replacing a metal roof is delicate and requires care to not damage the existing structure. Colorbond steel is the best roofing material available for this service. We offer the best warranties for Townsville roof replacements. We want to provide you with a beautiful new metal roof that fits within your budget.
How do you know if your metal roof
needs
to be replaced?
You must first determine if your metal roof is in need of replacement.
This means that you will need to assess the condition of your roof. Metal roofs are known for their durability. However, they will also reach the end of their useful lifecycle. These are the signs you should look out for when considering metal roof replacement.
Our roofing experts can help you determine if your metal roof should be replaced. We will evaluate your roof to determine the best solution.
Why Colorbond is the
best choice
for metal roof replacement in Townsville?
We've tried every metal product on the market, and we now only use the best. Colorbond is a product that has brought a new dimension to Australia's suburban landscape. Colorbond is an Australian-made steel product that is used in all of our metal roof replacements. This brand of steel is more versatile than ordinary zincalume and can be used to make roofs that are both durable, attractive, and thermally efficient. Colorbond's colour system is baked on to resist cracking, peeling, and chipping. This gives it a long-lasting performance that requires little maintenance.
Choose a metal roof that will stand the test of time
Your new roof will not require any maintenance because it is one of the most durable building materials. Colorbond steel's exciting colour options are another benefit. There are 22 fabulous colour options to match your home's architecture, landscaping, fascias and walls.
If you are looking to renovate or modernise an old roof, a Colorbond metal roof will be a good choice. The long-term cost of installing a Colorbond metal roof will be lower than repairing an existing one.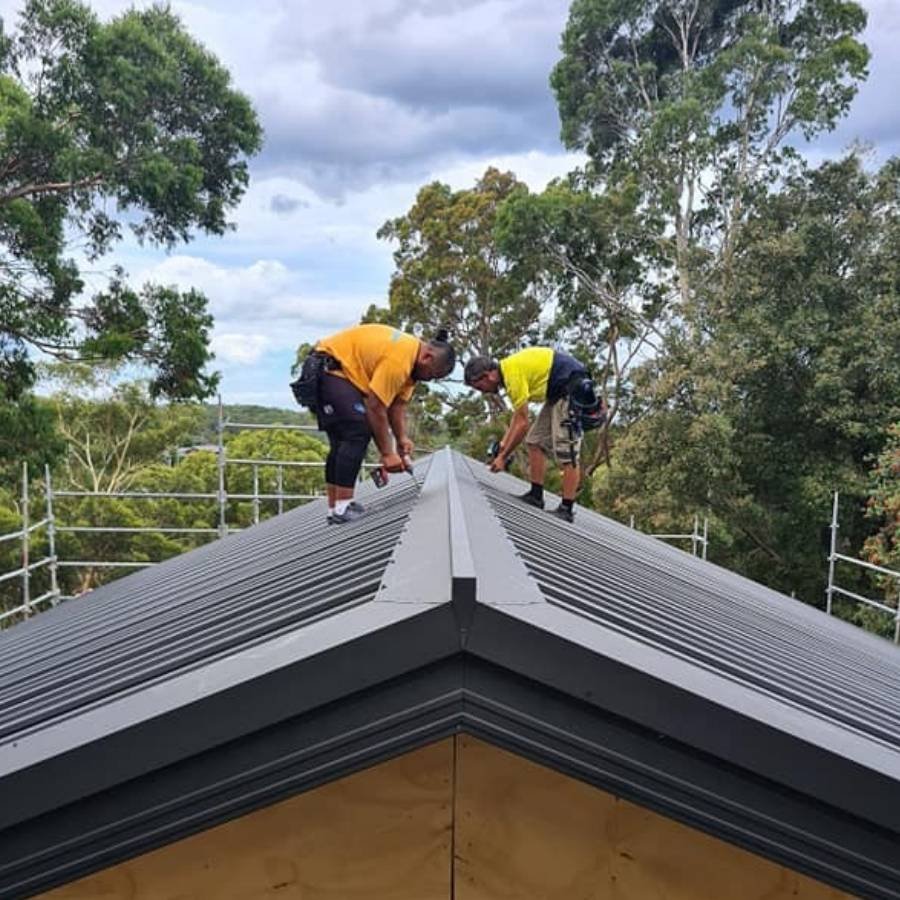 Townsville Metal Roofing Group
can make your metal roof last.
You need a roof that lasts a lifetime when replacing a roof. Your home's value will increase and you will be the envy of your neighbours. While metal roof replacement in Townsville is more expensive than repairs or restoration, it will save you a lot of money in the long-term.
Get a Modern looking metal roof
Townsville Metal Roofing Group will replace your roof with modern Colorbond and Zincalume roofing. This comes with a full manufacturer warranty as well as our installation warranty. We can handle any replacement project quickly and efficiently thanks to our Townsville metal roofing team. They are highly skilled and have access to the most innovative tools and materials.
Get a free, no-obligation quote for Metal Roof Replacement in Townsville!
No problem if you don't know where to begin. It is a good idea to know that you are interested in a roofing replacement. Townsville Metal Roofing Group's roofing specialists will gladly work with you to make the right choice. We will take the time to meet with you to ensure that the roof replacement project is completed within your schedule and with minimal disruption to your everyday life. Contact our team to learn more about metal roofing and get a free quote to replace your roof.
Talk to Townsville Metal Roofing Group about changing your old metal roof to Colorbond.

Roof Replacement Services
We offer a wide range of roof replacement services to cater for any budget or requirement.